Setting I live in the wonderful rolling hills of mid Devon close to Dartmoor National Park. We have wide views across open farmland and counselling/psychotherapy work takes place in this peaceful setting. Horses graze in the paddock next to the house, cats and dogs laze about the garden.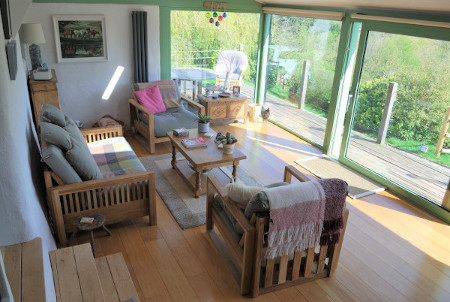 Counselling and Psychotherapy I am a Counsellor/Psychotherapist, Registered and Accredited with the British Association of Counselling & Psychotherapy (BACP). I subscribe to their Code of Ethics and Professional Practice guidelines. My work as a humanistic and integrative therapist follows Dr. Carl Rogers' core conditions of empathy, congruence and positive regard.

I have full Professional Civil Liability Insurance for my practice as a psychotherapist as well as Commercial Combined Insurance (inc. Employers' Liability) on the smallholding and all my animals. I hold an enhanced Criminal Record Bureau check.
My qualifications and professional memberships include:

Counselling & Psychotherapy - Certificate in Counselling, Advanced Diploma in Integrative Counselling (Level 5/BACP Accred), Diploma in Supervision (Level 6), Certificate in Neuroscience & Attachment (Metanoia Inst)
Animal/Equine Assisted Therapy/Outdoor Therapy – British Horse Society (BHSAI)
Society for Companion Animal Studies (SCAS) steering group, provider, tutor 2003-2016
Equine Assisted Growth & Learning Association (EAGALA) Certified Practitioner 2004-21
Horses in Education & Therapy Int (HETI) Associate & Federation member 2016-2023
Human-Equine Interactions Register (HEIR) Approved Provider 2022-2023
Social Farms & Gardens, Accredited Practitioner 2018-2023
Health & Social Care - Registered Manager's Award, Health & Social Care Man. (Level 5)
Agriculture/Animal husbandry - Hartpury University, degree in Animal husbandry/Ag.

Between 2002 and 2023 I attended many CPD workshops and longer training courses run by respected individuals and organisations in all of the above professional fields including Autism and Neurodiversity.

Background I have a friendly, open, thoughtful and caring approach. I have worked with horses and other animal all my life including managing animals in smallholding settings. In addition I have many years previous experience working in agriculture, training, management, health and social care. Over the past 20 years I have worked with young people and adults in schools, colleges, foster care, residential care and addiction units. I have supported clients with depression, post-traumatic stress, addictions, self-harming behaviours, suicidal thoughts, low self-esteem, relationship and sexuality problems, as well as learning difficulties, ADHD, autism and other types of neurodiversity.

About sessions I offer an initial assessment session where we can talk about your problems in general terms and check we are comfortable working together. The number of sessions you may require will vary but clients typically commit to 6 sessions to begin with. Clients working on complex and difficult issues usually choose longer term work which may last for several months or more. The experiential interventions I offer combine well with counselling and psychotherapy approaches.

My current fee for all sessions is £50 per hour.



Policy documents
Adults Safeguarding Policy
Animal Assisted Welfare Policy
COSHH Policy
Diversity and Equality policy
Emergency Procedures Policy
Environmental Policy
Health and Safety policy
Mission Statement
Privacy policy
Statement of Purpose